Dental Implants – BRANDON, SD
Replace Any Number of Missing Teeth
A missing tooth, whether it's a front tooth or a back tooth, can drain your self-confidence. Several missing teeth may even prevent you from leaving the house altogether. Dental implants provide patients with a solution that closely mirrors nature's design. With dental implants, you can eat, smile, and speak with restored confidence. Drs. Scott Wehrkamp and Mauri Heesch are educated in smile design and full-mouth reconstruction. They can determine if dental implants in Brandon are the right solution for your smile during consultation and evaluation of your medical history and oral health. Contact Neighborhood Dental - Brandon to find out more or schedule a tooth replacement consultation with our knowledgeable dental care team.
Why Choose NEIGHBORHOOD DENTAL - Brandon for Dental Implants?
Dental Implants Placed and Restored In-House
Knowledgeable Dental Experts with Decades of Experience
Flexible Dental Financing Options Available
What Are Dental Implants?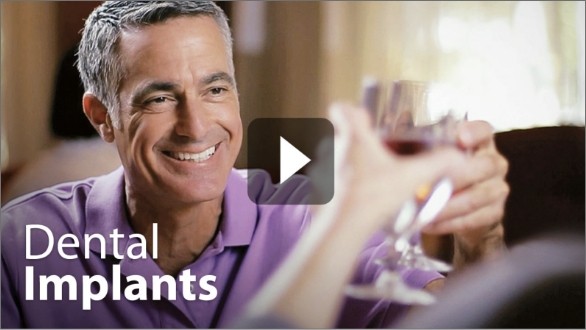 When looking for a tooth replacement option that will look, feel, and act like natural teeth, dental implants are the best restorative option for you. They work to replace both parts of your missing tooth—below and above the gumline, using a titanium post, an abutment, and a restoration. The implant helps to keep the jaw strong just as natural teeth do, and it replaces the visible portion of the missing tooth to provide an aesthetically pleasing dental prosthetic. The long-term benefits that dental implants provide make them a worthwhile investment, especially if you suffer from major tooth loss or have been missing teeth for a long time.
The 4-Step Dental Implant Process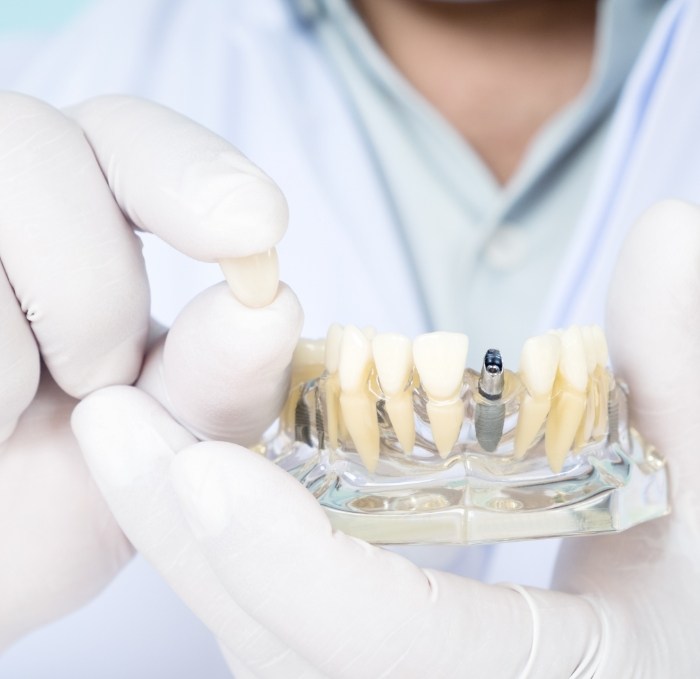 Initial Dental Implant Consultation – Scheduling a consultation with Dr. Wehrkamp or Dr. Heesch is the first step toward receiving dental implants. They will evaluate your oral and overall health as well as your jawbone to determine if you require any preliminary care before undergoing surgery.
Dental Implant Surgery – When ready for your procedure, you will remain in our dental office, as we surgically implant each post. Once in place, we will close the gum tissue and place protective healing caps over each implant.
Dental Implant Osseointegration/Abutment – For the next four to six months, osseointegration must occur. This is the fusing of the bone and implant to create a solid, stable base. After you're healed, we will have you return to receive your abutments, which help to keep your restoration attached to your implants.
Delivery of Dental Implant Restoration(s) – Whether it is a crown, bridge, or denture, we will place a customized dental restoration on top of your implants so that you can begin to live life the way you want – with greater confidence.
Benefits of Dental Implants
There are many great benefits of dental implants in Brandon. Unlike traditional dentures and dental bridges, you will discover these permanent prosthetics offer unparalleled differences that allow for a beautiful, natural, comfortable, and longer-lasting smile. Capable of restoring your incomplete smile with prosthetics that mimic the natural tooth structure, you'll enjoy fewer food restrictions, an easy-to-maintain solution, and a high success rate of placement. Below are just a few of the many benefits you can expect when choosing dental implants.
Day-to-Day Benefits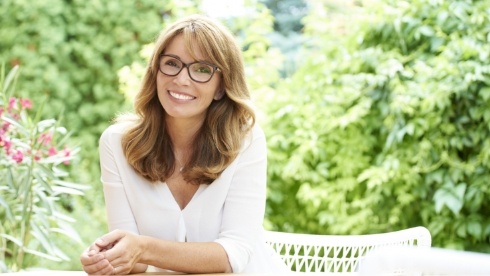 Improved biting strength: Be able to enjoy the foods you truly love without the worry of teeth shifting or sliding.
Comfortable: Implants are designed to function just like natural teeth. Also, non-metal materials can be used to create a natural appearance.
Minimal maintenance: Dental implants in Brandon require no special instruments or products to keep them healthy and long-lasting.
Improved lifestyle: Instead of shying away from social gatherings and opportunities, you can embrace a better quality of life because of your new, permanent smile.
Health Benefits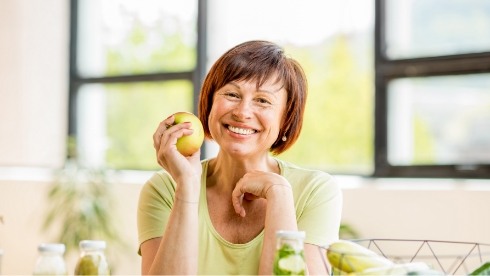 Independently anchored: The implants will not affect surrounding, healthy teeth. This is vastly different than if you were to receive a dental bridge, as nearby abutment teeth must be altered to ensure a proper fit.
Promote bone growth: The bone in your jaw actually grows around the implant instead of collapsing as it would without root stimulation, ensuring renewed strength of your jawbone.
No shifting teeth: Tooth loss often causes healthy teeth to shift out of alignment. You won't need to worry about this, as your dental implants will help keep all natural teeth in place.
Better health and well-being: Diabetes, heart disease, and osteoporosis are just a few of the many health conditions that can develop in part because of tooth loss. By opting to have a qualified implant dentist in Brandon place these permanent prosthetics, you can reduce your risk for these diseases and ultimately save money.
Long-Term Benefits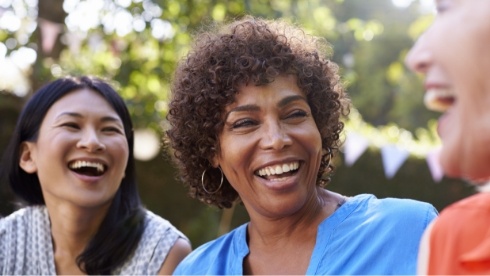 High success rate of placement: It is believed dental implant placement has a high success rate of 95%. This same rate can remain for 10 years if you continue to take proper care of your teeth.
Longevity: Dental bridges and dentures must be replaced every 5-10 years; however, dental implants have been known to remain in place for 30 years or even a lifetime!
Money saver: If you want to save money in the long run, you cannot go wrong in choosing dental implants, as you don't need adhesives or special cleaning products. Also, the permanent placement of your implants makes them a more stable and longer-lasting option, so you won't need regular adjustments or replacements.
Who Dental Implants Can Help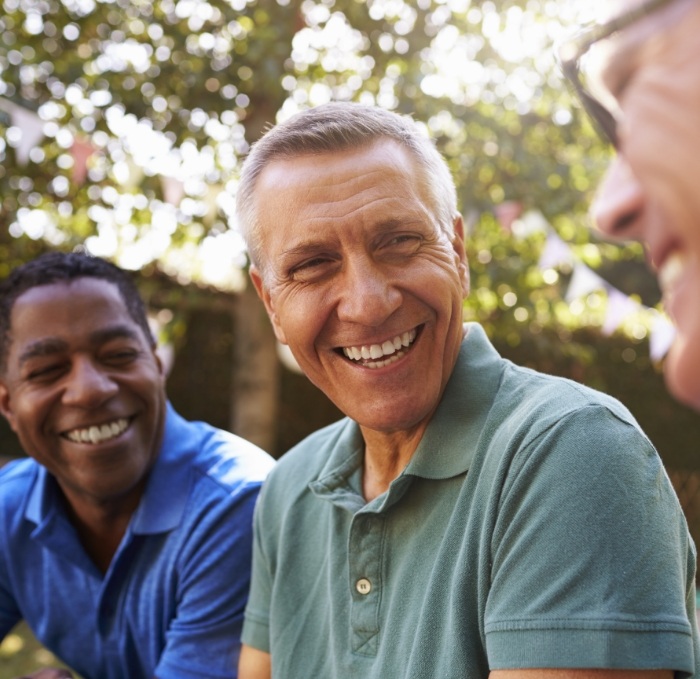 Dental implants may sound complicated, but when you consider the structure of a tooth, it makes perfect sense. A tooth has two parts: the root that extends into the jawbone, and the crown that emerges from the gumline. A dental implant also has two parts. The implant fixture replaces the root portion of the tooth, and a custom crown replaces the part that shows when you smile. Drs. Scott Wehrkamp and Mauri Heesch can replace a single missing tooth with an implant crown, or they can anchor a bridge or denture with dental implants. While implants require brief surgery and healing time, they pose many benefits over traditional solutions.
Missing One Tooth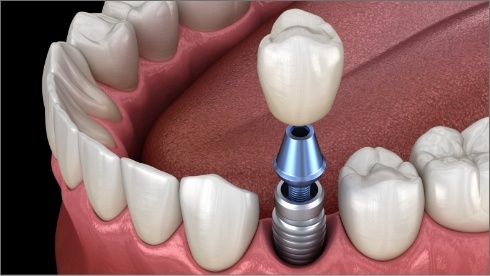 For a single lost tooth, we will use a dental implant post to support a custom, tooth-colored dental crown, recreating your flawless smile. Since the implant is strong enough to hold the crown on its own, neighboring teeth do not need to be modified to accommodate it.
Missing Multiple Teeth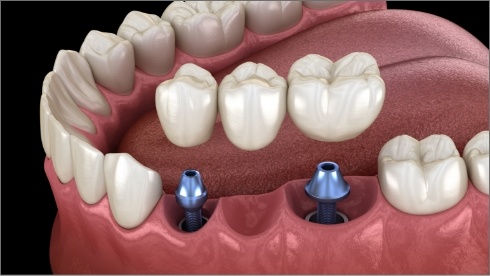 For multiple consecutive teeth, we will use an implant-supported fixed bridge. These restorations are supported by two dental implant posts, one at each end. For both consecutive and nonconsecutive missing teeth, we will use a partial denture supported by two to four dental implant posts.
Missing All of Your Teeth
For a full row of missing teeth, we use four to six dental implant posts to support a full denture. Implant restorations can be attached to both the bottom or top arch as well as be removable or fixed depending on your preference.
Understanding the Cost of Dental Implants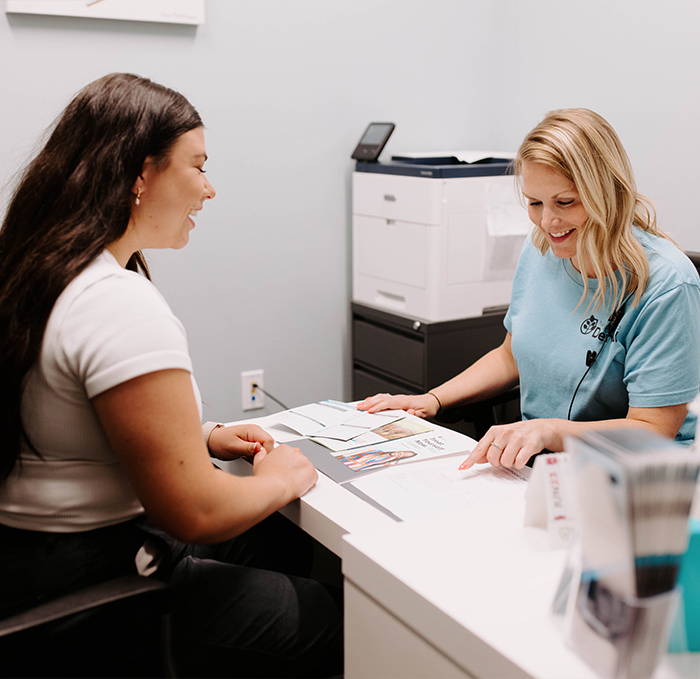 Even if you're ready to take the first step to a complete smile using dental implants, we understand if you're feeling concerned about their price. It's no secret they cost more than traditional treatments upfront, but they are actually more affordable in the long-term. Unfortunately, there's no easy way to determine how much you will pay for your new smile without first having a consultation. We provide you with a personalized estimate for each phase of your treatment and discuss your payment options to turn your dream smile into a reality.
Types of Dental Implants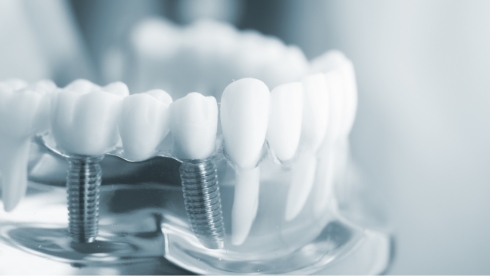 There isn't a pre-established price for dental implants because the amount you pay is determined by your specific treatment plan. There are various aspects we consider when estimating the cost of your procedure, such as the number of teeth you're replacing. On average, you can expect to pay more if you need to treat multiple teeth. You'll need to pay for each post, the abutments, and the restoration.
What Are the Stages of Dental Implant Treatment?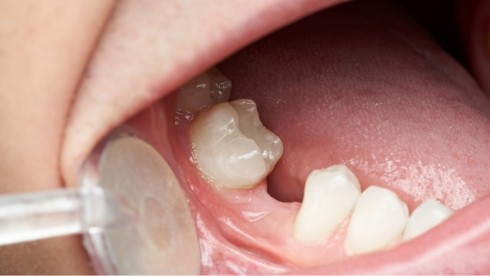 The process to rebuild your smile will take several months when choosing dental implants. Each phase of your plan features separate costs. As a result, you don't need to pay the entire amount of the procedure upfront. Spreading the cost out over several months can make it easier to pay for your dental implants.
Depending on your specific treatment plan, you can expect to pay for:
Initial Consultation: Besides the visual examination, you'll also need X-rays and a CT Scan.
Additional Procedures: Many people need additional procedures before their dental implant placement, like tooth extractions, bone grafting, or a sinus lift.
Placement Surgery: In addition to the oral surgeon's fees, sedation or anesthesia is needed to ensure your comfort as a specific number of posts are inserted into your jawbone.
Abutments & Restorations: An abutment is placed on each post to connect your custom-made restoration. Often the restoration is the most expensive aspect of the treatment.
Are Dental Implants Worth the Investment?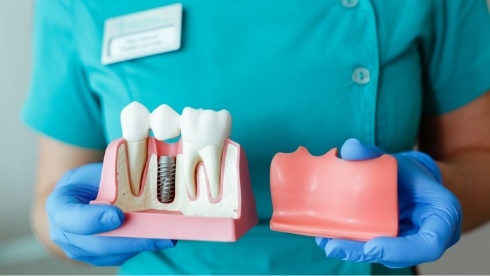 Although dental implants cost more upfront than traditional treatments, they are more cost-effective in the long-term. They have a 95% success rate to last for decades, so you should never need to worry about having them replaced. Not to mention, they improve your oral health. The implant posts stimulate your jawbone to preserve its density and any remaining teeth. This lowers the risk of preventable issues to reduce your overall dental costs.
Does My Dental Insurance Cover Dental Implants?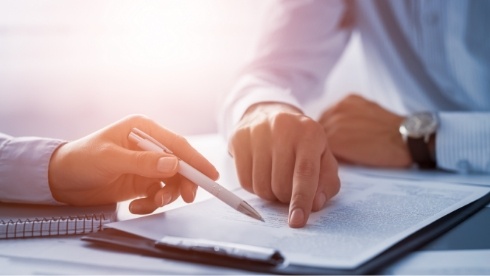 Unfortunately, most dental insurance will not pay for the entire treatment, but they might cover certain aspects of it until you reach your annual limit. The amount they pay depends on your specific policy. We work on your behalf with your insurance carrier to reduce the amount you need to pay.
We accept several payment options for any remaining balance, including third-party financing with CareCredit. Our dental team works with you to find the solutions you need to keep your new smile within your budget.
Maintaining & Caring for Your Dental Implants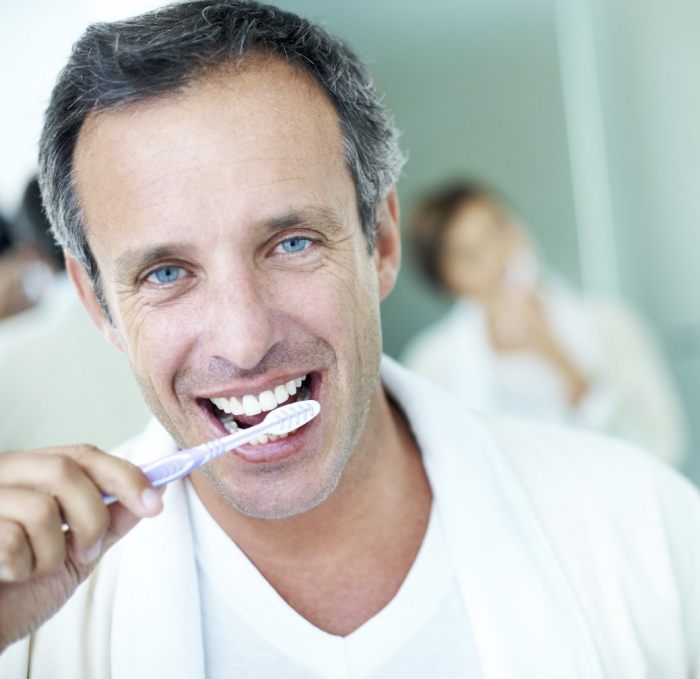 Dental implants have a remarkably high success rate, but ultimately, their lifespan depends on the level of care you give them. Just like with natural teeth, the best approach is a proactive one; problems with dental implants are much easier to prevent than they are to treat. Our team at Neighborhood Dental - Brandon can show you the steps you should take for proper dental implant care in Brandon that can help your new teeth deliver decades if not a lifetime of smiles.
Make Oral Hygiene a Priority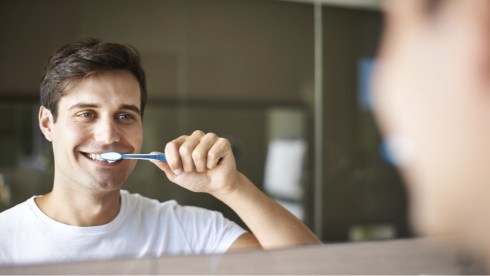 Even though dental implants aren't susceptible to cavities, the gums and bone holding them in place can still be impacted by gum disease. If these supportive tissues become infected, the implants might end up failing. Therefore, oral hygiene remains just as important with dental implants as it was with all of your natural teeth. Luckily, you can brush and floss implants just like real teeth in most cases.
Eat a Healthy Diet
In general, the foods that benefit your overall health are also good for your implants, and vice versa for unhealthy foods. Indulging in a piece of cake now and then is fine, but don't let your diet primarily consist of processed sugars and starches; these items increase the risk of gum disease. Instead, aim to eat a wide variety of nutritious foods, like fruits, vegetables, leafy greens, and lean proteins.
Break Bad Habits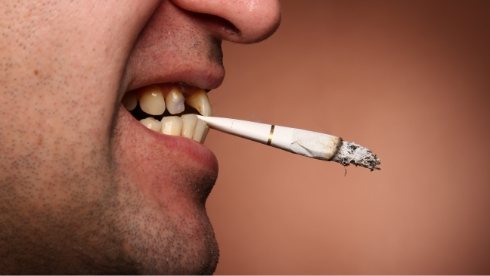 Dental implants in Brandon are quite strong, but they can still become worn-down over time by many of the same habits that damage natural tooth enamel. Chewing ice cubes, biting your fingernails, and opening bottles with your teeth are examples of habits that could spell disaster for your implants. To avoid the temptation to chew on something harmful, try carrying sugar-free gum around with you and simply pop in a piece when the urge strikes.
Protect Your Dental Implants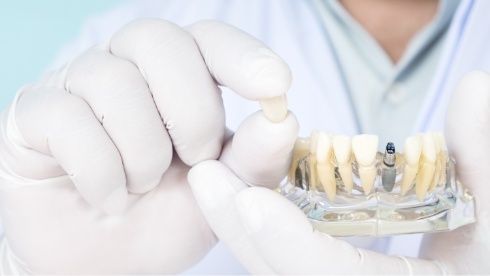 If you play sports regularly, you'd do well to invest in a custom-fit mouthguard, which minimizes injury to your teeth (and implants). You should also look into getting a nightguard if you grind your teeth, as long-term pressure can weaken your implants. In either case, a professionally crafted mouthguard from an implant dentist in Brandon will be more effective and comfortable than an appliance you'll find over the counter.
Schedule Regular Dental Checkups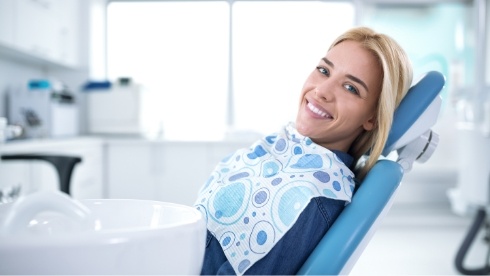 Every six months, you should visit our office for a routine dental checkup and cleaning so that we can look over your implants, gums, and mouth as a whole. If we spot anything concerning, we can plan to address it before it causes any severe harm to your implants.
Dental Implant FAQs
Dental implants have been around for many decades, but we understand if you've only heard about them recently. Over the many years that Neighborhood Dental - Brandon has been placing and restoring dental implants, we've received many questions about what to expect from treatment. Below, we've included a handful of the most common questions we received and provided our detailed answers for your convenience. If you have other concerns you'd like to address, please give us a call directly!
Does Getting Dental Implants Hurt?
Ahead of your procedure, your treatment area will be carefully numbed before any stage of the procedure begins. This is done using a local anesthetic, which is common for a variety of treatments, not just dental implant placement. With all that said, we do recommend that you take a day or two off to recover from treatment as you may feel a little sore. Over-the-counter medications as well as cold compresses can help.
Will People Be Able to Tell That I Have Dental Implants?
Our dental office designs your restoration with your exact specifications in mind. This means that your restoration's color, shape, and size are all accounted for to ensure the most natural-looking esthetics possible. No one but you and our team should be able to tell that you had teeth replaced with dental implants, that is, unless you tell them! Furthermore, there's no reason that you should have to hold your jaw awkwardly to keep them stable, which cannot be said for dentures.
How Soon After a Tooth Extraction Can I Get Dental Implants?
If the bone tissue is healthy enough, which is more often the case in younger adults, dental implants are typically placed immediately after a tooth is removed. However, older patients may need to wait three to six months for the mouth to heal, then place an implant. They will do everything they can to avoid waiting much longer than that because the jawbone can begin to shrink and change shape when a tooth root is no longer stimulating it. The decision our office makes for your specific treatment will vary depending on the current health of your oral structures.
What Can Cause Dental Implants to Fail?
Dental implant failure is not particularly common. However, there are instances where it can happen, so it's important to be aware of them so you know how to take better care of your implants.
Implant failure usually occurs due to peri-implantitis or failed osseointegration. Peri-implantitis is caused by gum disease, often as a result of poor oral hygiene. This damages the bone and gum tissue supporting the implant. In other cases, the implant may not properly integrate with the bone, which is more common if the patient has very low bone density.
In addition, if you happen to grind or clench your teeth, use tobacco, fail to practice routine oral hygiene, take certain medications, have underlying health conditions, or undergo radiation to the head and neck, an implant can fail. Despite this, failure is very rare, and our team will make sure to provide detailed guidelines for you to follow that minimize your risk of failure.